Compiling and Providing Research Resources
Activities
With the development of the information society, an enormous amount of information has come to be exchanged throughout the art world. Today, at a time when information related to the understanding and utilization of art has come to play such an important role, there is a need for Japan to create a means of summarizing and providing information to the wider world. In an effort to become a base for research on Japanese art and artists, and the collections of museums around the country, our Research Resources Group compiles and provides information to both those inside and outside Japan.
Details on Activities
01
The Compilation
and Dissemination
of Information
on Works in Museum Collections Throughout
Japan
For some time, many people both in Japan and overseas have said they would like the ability to search all museum collections in Japan at once. In 2021, in response to this demand, the Japanese Museum Collections Search (nicknamed SHŪZŌ, meaning "collection" in Japanese) was launched on the Agency for Cultural Affairs' Art Platform Japan (APJ) website. This search system enables users, when researching Japanese artists, to gain a comprehensive picture of which artworks are housed in which museums.
The Independent Administrative Institution National Museum of Art took over the SHŪZŌ project in 2022. Within the institution, the Research Resources Group is responsible for adding and updating data and for ensuring sustainable operation and expansion of the project.
The creation and public release of digital data on art museums' collections was clearly positioned as a priority for Japan's museums in 2022 under the revised Museum Act. However, fewer than ten percent of art museums and other museums have made the entirety of their collections available to the public (according to the Survey on the Enhancement of Museum Functions, commissioned by the Agency for Cultural Affairs, 2021). At the root of the problem of access to art information in Japan is the reality that data on artworks available on the Internet is limited to begin with.
In light of the difficult situation facing art museums, the SHŪZŌ project has been taking a variety of approaches, focusing specifically on the question of how to increase the amount of data on artworks accessible on the Internet. The Research Resources Group will carry on this policy, working in collaboration and cooperation with art museums nationwide to consolidate and digitize collection information and disseminate it in both Japanese and English.
In the mid- to long-term, we will examine efforts to standardize collection documentation (management of records) with the aim of contributing to the promotion of public access to information on art museums' collections.
02
Initiatives to Establish International Research Center Functions
The Research Resources Group will develop a research portal site on Japanese art and artists in order to answer questions that arise in researching these subjects and to support these activities. These might include information on where to locate literature on a given artist, when and where a given exhibition was held, and whether an exhibition catalogue published.
Thus far, the infrastructure for research on Japanese art has not been as fully developed as it has in the West. Biographical dictionaries, in particular, differ from standard Western counterparts in that they often lack reference information (e.g., bibliographies, major exhibitions, etc.) and do not provide material for further study.
The Research Resources Group will work to resolve this issue by extensively updating the "Artists / Art Platform Japan" page on the Agency for Cultural Affairs' Art Platform Project website and creating a comprehensive online encyclopedia of Japanese artists. With the cooperation of the Tokyo National Research Institute for Cultural Properties, the "Artists" section already includes "Obituaries" from the Yearbook of Japanese Art. In the future, we aim to enhance this by adding explanatory texts by scholars and reference information such as major exhibitions, major collections, and bibliographic references.
We will also continue working on research projects such as "Contemporary Japanese Art Exhibitions Research," a database of domestic and international exhibitions relating to contemporary Japanese art, and "Survey on Japanese Art Galleries from 1945," a database of galleries in Japan, both of which are available on the Art Platform Japan (APJ) website, so as to offer information resources that contribute to research on Japanese art. In addition, we will continue to make "Newly Translated Documents," which have been translated into English, publicly available via the Art Platform Project.
Moving forward, the Research Resources Group will continue to create, maintain, and develop a variety of reference tools, as well as thematic research guides to existing reference books and bibliographies, both paper and electronic, and make them available on the Internet.
In addition, we will strengthen our framework for responding to inquiries and questions from Japan and abroad, and will play a role as one of Japan's leading points of contact for information on the country's art.
03
Measures to Make Data on National Art Museum Collections Publicly Available
The Research Resources Group will compile and disseminate information on the collections of art museums nationwide, and will also work to promote public access to the collections of the Independent Administrative Institution National Museum of Art, with which the Center is affiliated.
In 2005, the Independent Administrative Institution National Museum of Art compiled basic information on and images of the collections of four art museums (the National Museum of Modern Art, Tokyo, the National Museum of Modern Art, Kyoto, the National Museum of Western Art, Tokyo, and the National Museum of Art, Osaka), and made it available and searchable online via the Union Catalog of the Collections of the National Art Museums, Japan. In 2018, the system was expanded to include information on the history of each work (provenance, exhibition history, bibliography, etc.).
In addition to the above-described information on works of art, we will build a "National Museum of Art Collections Search" system that will enable comprehensive searches of various national art museum databases, such as those of films held by the National Film Archive of Japan, library holdings of National Art Museums, and the results of their research activities, and offer public access to the system while continuing to enhance it.
Moreover, we are undertaking the following activities at the National Museums of Art.
・The Collection of Hayashi Tadamasa related letters and reference materials (The National Museum of Western Art)
・Japanese Film Heritage: NFAJ Non-film Collection Portal (in Japanese) (National Film Archive of Japan)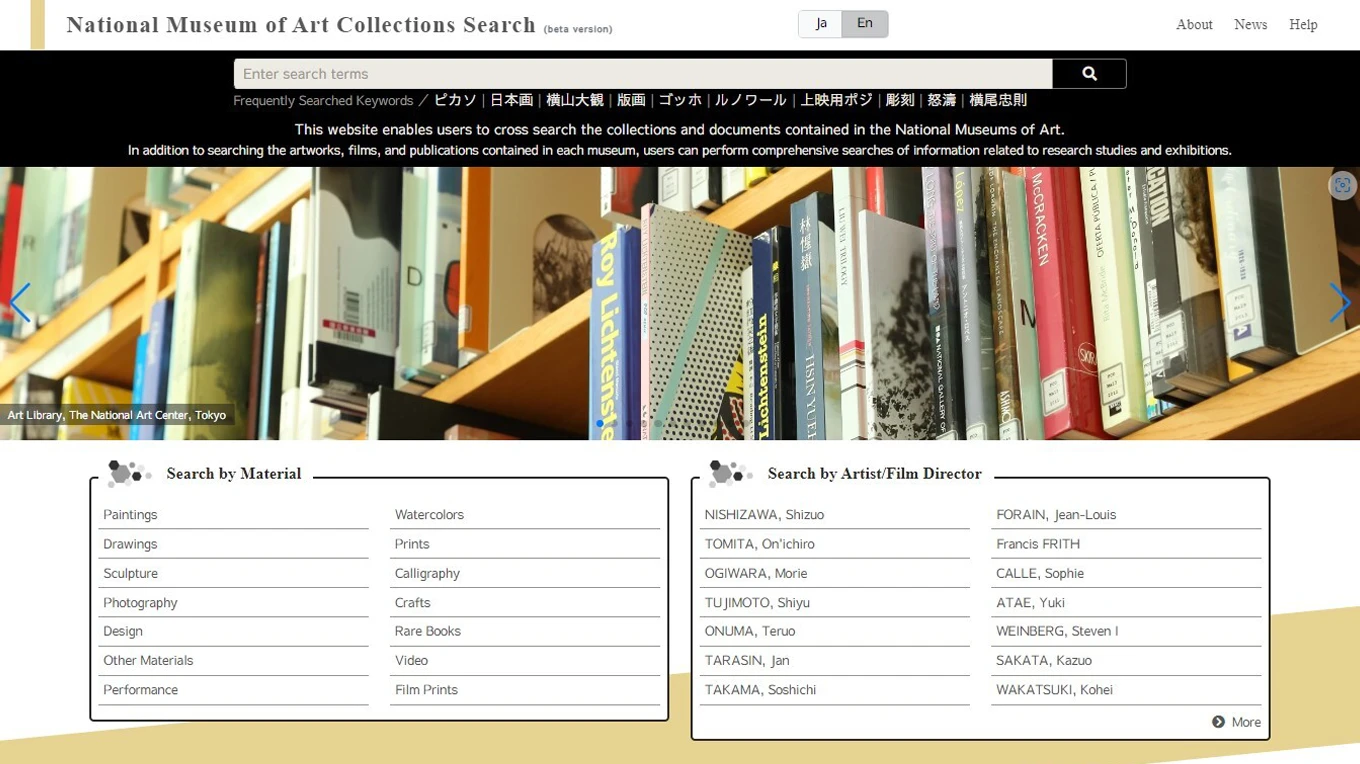 National Museum of Art Collections Search (beta version)